Pope Francis Elementary School Students Pick up Litter & Honour Earth Day!
Pope Francis Elementary School students in Kindergarten celebrated Earth Day with picking up litter around their school year. When asked why they were doing this, they replied that they were helping the earth and cleaning up their neighbourhood.
Holy Family School Partakes in Stations of the Cross
Thank you to Madame Birch and the Grade 7/8 class for a beautiful presentation of the Stations of the Cross. It was a wonderful reminder of the true reason for Easter: Have a blessed Easter weekend!
Register Your Child for Kindergarten Online
If your child was born in 2015, it is time to enroll them for Kindergarten starting in September 2019. Complete the online Kindergarten Registration form or stop by your neighbourhood Catholic School. Catholic Education Makes the Difference!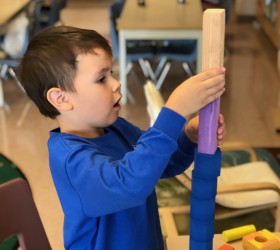 The Addams Family Musical Performed at OHS
The O'Gorman High School Family is performing the Addams Family Musical this coming May 1st to 4th at the Sylvia Gravel Theatre. The performance starts at 7:00pm. Get your tickets at Alfie's Cigar Store, the Timmins Square Customer Service booth or at OHS.