Ministry Initiatives
Aboriginal Initiatives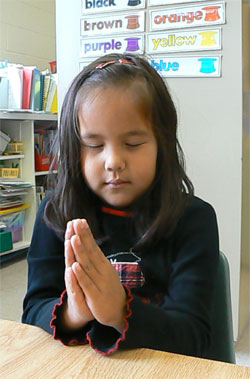 Ontario's new Aboriginal Education Strategy was launched in January 2007 with the release of the First Nation, Métis and Inuit Education Policy Framework . Its purpose is to help close the educational gap between Aboriginal and non-Aboriginal students and to increase knowledge and awareness about Aboriginal histories, cultures and perspectives among all students.
The Aboriginal Education Strategy includes initiatives designed for schools and school boards. It also contains initiatives to encourage and sustain Aboriginal student success, such as:
Establishing an Aboriginal Education Office to support the learning and achievement of Aboriginal students.
Improving literacy and numeracy skills.
Increasing the number of Aboriginal staff working in school boards.
Encouraging parents to get more involved in their children's education.
Integrating information about Aboriginal culture, histories and perspectives throughout the Ontario curriculum to increase knowledge and awareness among all students.
Building partnerships with Aboriginal communities and organizations to develop strategies to support student achievement.
Funding of the Native Counsellor Training Program.
Funding the Ontario Youth Apprenticeship Program in First Nation Secondary Schools.
Daily Physical Activity
On October 6, 2005, the Minister of Education, Gerard Kennedy, announced that every elementary student will participate in a minimum of 20 minutes of sustained moderate to vigourous physical activity each day during instructional time as a part of the government's Healthy School Initiative, making publicly funded schools a healthier place to learn.
The Ministry of Education has provided school boards with a variety of resources to support daily physical activity. The teacher resource guides to support the implementation of daily physical activity in elementary schools are available on the Ministry of Education's website. School Effectiveness Framework
Safe Schools
In December, 2004 the Government requested that the Safe School Action Team review the Safe Schools Act and related policies and programs. The Team completed a Discussion Guide entitled "Safer Schools --- Safer Communities" in November 2005 and subsequently consulted with teachers, parents, students, support staff, and school administrators. In June of 2006, the Safe School Action Team released its report, entitled Safe School Policy and Practice: An Agenda for Action. The Report fashioned its recommendations based on four guiding principles:
Every student is entitled to learn to the best of his or her ability;
Every student is entitled to a safe and caring learning environment;
Safety is a precondition for learning; and,
Safe schools are the responsibility of a community partnership among government ministries, administrators, teachers, support staff, students, parents, police and community partners.
The Report identified eight areas of priority: prevention, progressive discipline, community and parental involvement, the application of the Safe Schools Act, programs for suspended/expelled students, education and training, communication and the creation of a provincial safe schools framework.
The most significant changes effected by the legislation, the accompanying regulations and P.P.M.'s are:
requiring school boards to implement revised codes of conduct;
requiring school boards to implement bullying prevention and intervention policies;
requiring school boards to implement "progressive discipline" as part of a spectrum of strategies designed to change the inappropriate behaviour of pupils;
adding "bullying" as a behaviour for which suspension can be considered and requiring school boards to implement bullying prevention programs;
clarifying that pupils can be disciplined for behaviour that occurs off school property in "circumstances where engaging in the activity will have an impact on the school climate";
expanding the list of mitigating factors to be considered before a decision is made to suspend or expel a pupil;
removing the "mandatory" aspect of suspensions and providing principals with the discretion whether or not to suspend;
restricting the authority to expel to school boards - principals can no longer expel pupils;
removing the mandatory aspect of expulsions and providing principals with discretion whether to recommend that the school board expel; and,
requiring school boards to provide a program to pupils who are serving long term suspensions (more than 5 days) or expulsions which include an academic component as well as a non-academic component designed to address the behavioural issues which led to the suspension or expulsion and which will lead to the pupil's return to school.